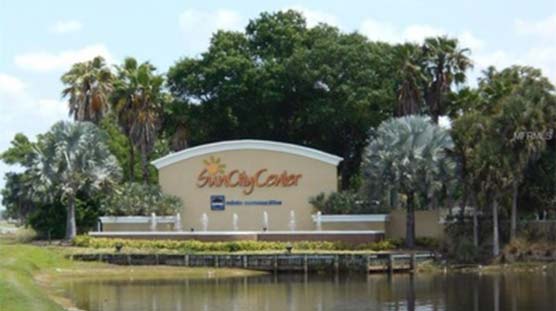 Sun City Center is a premier active 55+ community that is focused on filling the wishes of mostly retired folks that want to enjoy "Fun in the Sun". It is divided into two geographical sections each having a slightly different focus. The residents in approximately two thirds of the land area must join the Sun City Center Community Association, Inc . It has an annual membership fee that is very reasonable considering all of the services provided. This consists of the northeastern and southeastern thirds of Sun City Center. There is a community campus in each of these sections which may be used by all of these residents. The activities, community services and facilities provided for the residents are too numerous to describe in detail here; but to give you a flavor.....facilities include numerous athletic courts, indoor and outdoor swimming pools, walking pool, hot tub, dancing, arts & crafts, rooms for meetings, games and numerous clubs. Activities include everything related to the facilities just mentioned; plus, fitness, social & civic, stage shows, travel & veteran activities.

Many of the residents are involved in volunteer work which results in many valuable community services; such as, emergency squad, hope fund, hospitality, library, lifeline, ride services, security patrol and tax preparation aide. The northeastern and southeastern sections have many local neighborhood HOA's that set their own rules through their elected officers. They have a monthly HOA fee to cover the services provided through the HOA....usually involving landscaping services. There are a limited number of homes that are not part of an HOA. The other section of Sun City Center is a Gated Community called Kings Point in Sun City Center. This community is structured as a condominium association. It has a Master Association that is responsible for maintaining all of the physical properties owned by the association. Kings Point was designed for folks that want to have minimum responsibility for property maintenance.

The master association is responsible for most maintenance out side of a resident's home and the resident takes care of the inside. In addition, the association currently provides two campus facilities that provide much of the same services provided by the Sun City Center Association outlined above; but these services are provided in separate campus facilities located in Kings Point. There are over 100 "neighborhood" HOA's in Kings Point which charge a monthly fee for the extensive maintenance, security, insurance, utilities and management services provided.

There are numerous medical facilities in and around Sun City Center including a local hospital with another new one opening shortly; doctor's offices for most all specialties; assisted living facilities providing a wide range of services from meals and light housekeeping to nursing, physical rehabilitation, dementia and Alzheimer's care.